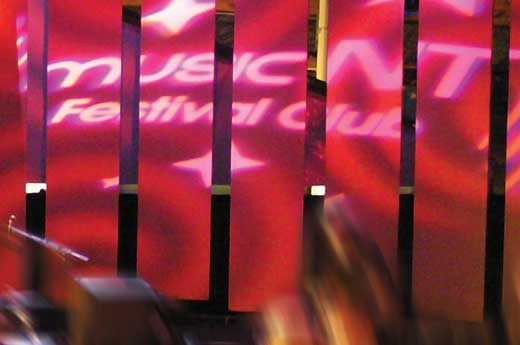 Music NT Festival Club
The Music NT Festival Club is the place where you can rub shoulders with the celebrities, meet your friends after a show, or party on into the night with tunes from Darwin's own KONGO crew: Chuan, Fat Lip, Loose Cannon and EFlip - every night!
Darwin Festival and Music NT are once again collaborating to produce the best Festival Club Darwin has ever seen, featuring local original live music.
More than 30 Territory musicians will take over the Darwin Festival Star Shell this year for a fabulous 17 nights of home grown music and mayhem. The Music NT Festival Club will bring the best contemporary acts in the Territory to the Star Shell for a thrilling line-up of local original talent.
The following provides a taste of what is in store for this year's Music NT Festival Club. The Groovesmiths who's music is a splendid blend of organic drum and bass rhythms, driven by a bluesy hip hoppin' reggae, rolled into a jazz ethic … sounds strange? NEO's powerfunk 'Freak show'! Darwin's brand new Celtic/ska/punk band Greedy Stout, R & D, a mix of blues, rock, dark spoken word and soaring guitar solos. Wailing sax lines, cutting guitar and rock solid rhythm section from Sex in the Desert, the acoustic soulman Matt Ryder, Leah Flanagan combining traditional forms from opera to classical and jazz with a whisky drunk piano style, some hot talent from Alice Springs and many more.
Date: 11 - 27 Aug
Times: 9:45 onwards
Venue: Star Shell Botanic Gardens
Price: $5, or FREE if you present your ticket to a Festival event from the same night.